Rosary School, Muweilah-Sharjah

It is due to the infinite kindness of Highness Dr. Sheik Sultan bin Mohammed Al Qassimi, member of supreme Council and ruler of Sharjah, that Rosary School in Muwalieh was Started in 1999 as a branch . more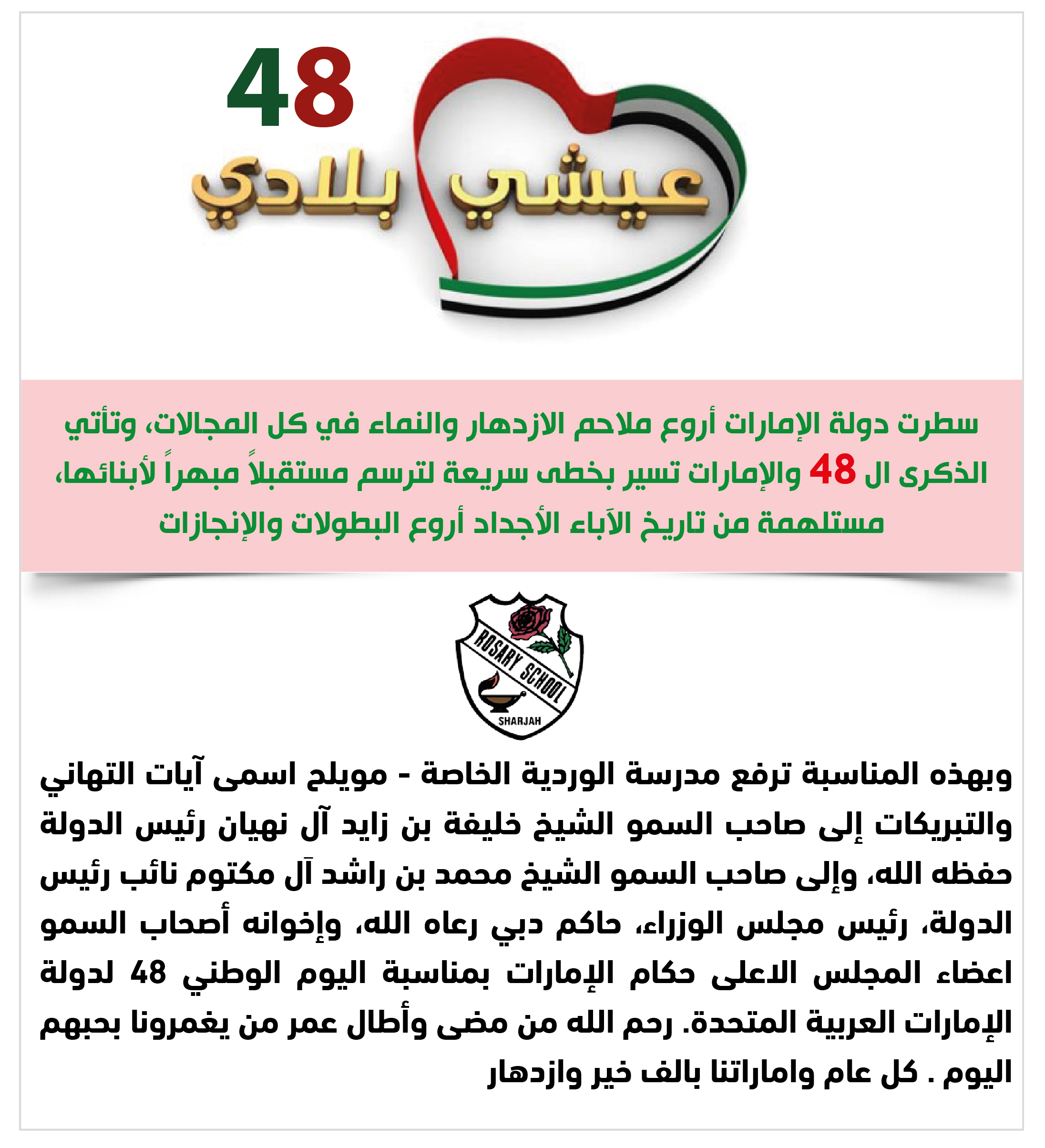 On behalf of the management and teachers,I would like to extend my heartiest congratulations to all our IGCSE students for the wonderful results.May the Almighty God continue to shower His choicest blessings on all of you.
I take this opportunity to welcome all my dear students,teachers and management staff into yet another blessed academic year.I hope and trust that this year will be a peaceful
and successful one


**Wishing you and your family a New Year full of peace, happiness, and abundance . May God Almighty bless you throughout the new year. Hijri Mubarak!
Sr.Sawsan Bader(Raphael)
Principal
Message from Principal Sr.Sawsan Bader (Raphael)
| | |
| --- | --- |
| Rosary Private School, Muweilah since its inception and foundation has always set up high benchmarks of value based holistic education for its students. The school has been a pioneer in imparting knowledge and skills that have contributed towards the growth and vision in building global citizens and a conscientious humanity. Moreover, school has an overall healthy and vibrant environment conducive to learning and growth of students, more | |
| | |
"Words of Gratitude"
Dear Parents, beloved students and staff,

On this special day, we would like to congratulate His Highness Sheik Khalifa bin Zayed Al Nahyan, the president of UAE and Dr. Sultan bin Mohammed Al Qassimi, the benevolent ruler of Sharjah. May God Bless them abundantly. On this flag Day more
| | |
| --- | --- |
| | latest news |


Hard work always pays off.....

Rosary Private School administration and the staff would like to congratulate all our dedicated, laborious and intelligent girls and their parents for coming up with flying colors in CAIE Examinations??
Hats off to your great achievement... more >>>
#Flag_day celebrations #Foundation_Stage
2019

Flag day celebrations more >>>
| | |
| --- | --- |
| | book fair at Expo Centre Sharjah |
"ITHRAA" outdoor learning programme

Students of grade 4 participated in the "ITHRAA" outdoor learning programme conducted by Environment and Protected Areas Authority and the main idea of Participation is to bridge the curriculum lesson topics with outdoor live resources at the dessert park more >>>
| | |
| --- | --- |
| | As Mr.Hazza Al Mansouri the first Emirati Astronaut headed to International Space Station on 24th September 2019,the Kindergarten students celebrated the occasion with joy and pride lauding the achievement of the young Emirati who is indeed a sheer example of hard work, dedication and perseverance. We are proud you dear Sir. more >>> |
ROBOT MAKE-N-TAKE ACTIVITY

In today?s technology driven world, it is essential to prepare students for the future. Teaching robotics definitely enhances their creativity more >>>
INTERNATIONAL PHOTOGRAPHY FESTIVAL

The Rosary School, Muweilah organized a trip for students to the International Photography Festival in Sharjah Expo Centre more >>>
The 89th National day of Saudi Arabia

was celebrated in a grand manner in our school on 23th of September 2019. The programs started by 8:30 a.m. and continued until 10.30 am. Album >>>