The International General Certificate of Secondary Education (IGCSE) is a two year curriculum programme with internal and external assessments and examinations in Grade - 10 and Grade – 11.
We have the accreditation from the University of Cambridge to conduct the IGCSE Examinations. In order to cover a broad and balanced curriculum as recommended by Cambridge University. IGCSE syllabus starts from Grade – 9 for all subjects except for Economics and Business Studies.
The students are advised to make their best career choice. They are guided time to time for the best selection of their streams which will enable them to choose the best option from Science or Commerce for their future and succeed in life.
The students are always supported to find out their aspirations and decide what they are looking for themselves in near future and choose the subjects. The students should focus on the subjects they are interested and comfortable with. The parents are also advised to help their children to select the subjects according to their future plans and help them to achieve their desired goals.
The School provides IGCSE in the following Subject:

1. English 2nd Language
2. Arabic 1st Language
3. Biology
4. Physics
5. Chemistry
6. Mathematics
7. Business Studies
8. Economics
9. Accounting
10. ICT (Information and communication Technology)
11. Environment Management

Grade –X the students can take up IGCSE examinations in these subjects.
1. English 2nd Language ( 100% portion will be covered in Grade – 10)
2. Arabic 1st Language ( 100% portion will be covered in Grade – 10)
3. Biology ( 75% portion will be covered in Grade – 10)
4. Environment Management ( no training will be provided for Environment Management)
Students can write any subject or all subject mentioned above depends on their capacity in grade - 10.

In Grade – XI Mandatory Subjects:
1. Mathematics
2. English 2nd Language
3. ICT (Information and Communication Technology)
Note: As per MOE rule in grade 11, a student should mandatory appear for minimum of 5 subjects even if they have completed 1 or more subjects in grade 10.
Have a best choice from: Science or Commerce

| | |
| --- | --- |
| Science Stream | Commerce Stream |
| Biology | Business Studies |
| Physics | Economics |
| Chemistry | Accounting |

After Grade –XI students are eligible for AS Level and A Level study.
Likewise AS /A level students have to take their decision on behalf of their future plan or the University /Country/Course they want to study. But the only difference is that at this stage they have to select minimum two or maximum four subjects according to their plan.
AS-Level
The school offers the following subjects at AS Level:
• Physics
• Chemistry
• Biology
• Economics
• Business Studies
• Accounting
• English Language
• English Literature
• Pure Mathematics
• Statistics
The list is endless for careers as well as the job opportunities for science students of IGCSE. It gives you a head start and easier beginning to studying Science at A level or its equivalent.
Some of the career options open to students after studying one or more sciences are: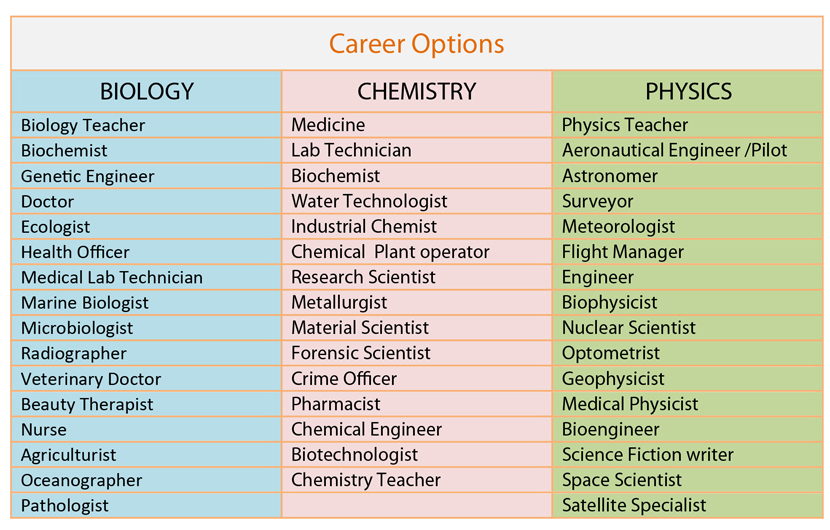 Some of the career options open to students after studying ICT (Information and Communication Technology)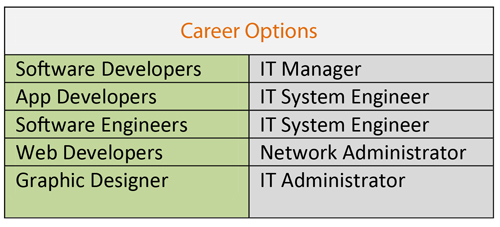 Schedule for Examinations: Cambridge Assessment International Education (CAIE)
May – June Examination

- Registration in December
- Practical Examinations ( March – April)
- Written Examinations : May & June
- Result in August
- Distribution of certificates : Mid of October


- October- November Examination
- Registration in August
- Practical Examinations ( October)
- Written Examinations: Oct & Nov
- Result in January
- Distribution of Certificates : Mid of February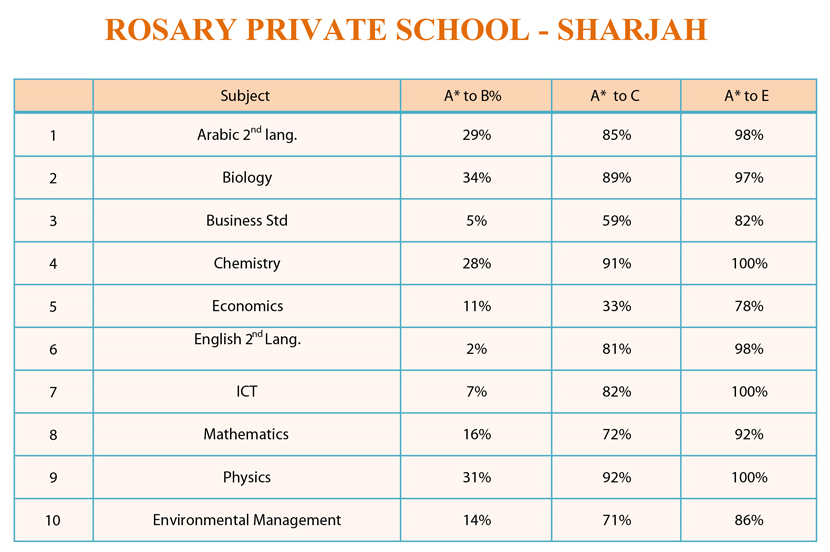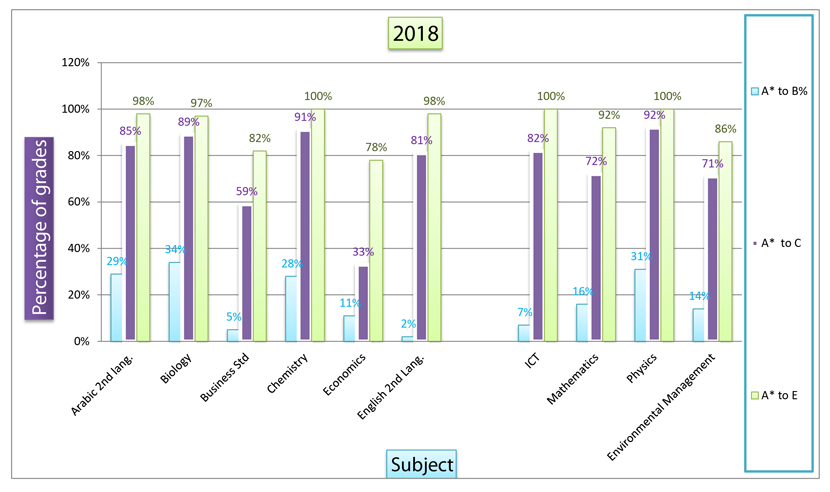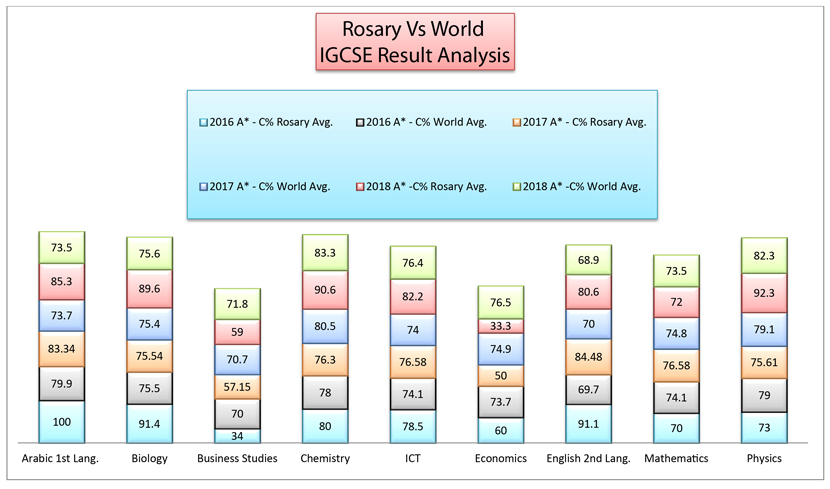 Comparing Rosary School Result to Average Result in :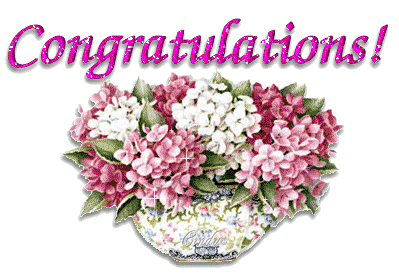 Congratulations to our IGCSE & AS Level
students for outstanding results
Please click on image to enlarge